Lime Factory recently developed a successful new cashback concept to encourage repeat purchases of FMCG products. This is an extension of the successful Monsterbox concept. The Monster Box is a grocery package that entices consumers to try new products. By now adding a cashback mechanism to that, we can now convert a portion of Monsterbox buyers from nonuser to frequent buyer.
Fifty percent cashback on multiple products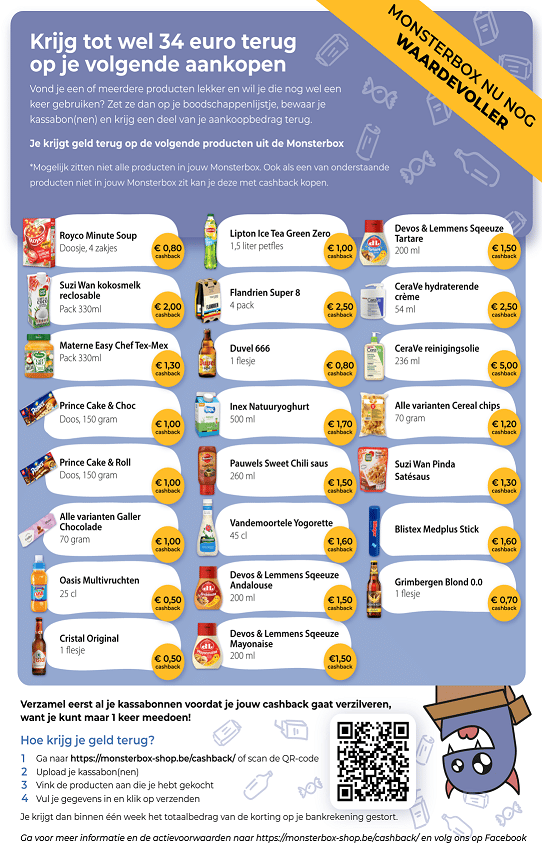 The Monsterbox is a box full of (often new) products that is released four times a year in the Netherlands and Belgium. Buyers of the Monster Box get the box delivered to their homes and can try and review the products. To encourage repeat purchases, Lime Factory recently conducted a pilot for the Belgian edition where Monsterbox buyers could receive 50% cashback on multiple Monsterbox products upon presentation of their receipt.
Adventurous target audience
The new cashback concept fits seamlessly with the Monsterbox's target audience and proposition. Monster Box buyers are generally consumers interested in trying new products. In our communications, we also deliberately target this audience and not bargain hunters. Our intention has always been to reach a quality audience that we can encourage repeat purchases of the products. Our new cashback promotion within the already successful Monsterbox concept is another step to further encourage those repeat purchases. In doing so, we deliberately chose a partial cashback because we want the quality of the product to be the intrinsic motivation to buy it again. By offering multiple products with a cashback, we lower the barrier to entry and increase the incentive.
Research shows high repeat purchase intention
Research results from the pilot show tremendous potential for this new cashback concept. The numbers are not that high right now, but the consumers who have participated are very enthusiastic about the promotion. More importantly, as many as three-quarters of respondents said that, thanks to the Monsterbox and the associated cashback promotion, they have bought products they did not buy before. Over 52% consider it (very) likely that they will buy those products more often. 16.3% say they will definitely buy these products more often from now on.
Free service for now and also in the Netherlands
Lime Factory reimbursed the cashbacks from the pilot itself and, for now, will continue to offer this additional service free of charge to FMCG producers who wish to participate in the Monsterbox. We have always kept participation in the Monsterbox low-threshold for FMCG producers, and we have no plans to deviate from that for the time being. Other than providing products, we do not charge a fee. Not even for the cashback promotion. We will continue to develop the concept in the coming time, gain more insights and enthuse more consumers to participate.

Interested or want to know more?
If you want to know more about the Monsterbox and the Monsterbox Cashback promotion, don't hesitate to contact Chris Hagens. He would be happy to tell you more about it.